A "Unique" pen
Posted On
I was working an event selling some of my pens and was approached by a couple. They were interested in my pens. As we got talking the husband asked if I took special orders. I told him I did. He asked if I could create a pen in the shape of an okra. I told him I would think about it and see if I could work out the process. I sometimes get some strange questions and many times nothing ever materializes so I took the wait and see approach.

A couple of weeks later I got a call from Don asking if I was still interested. After some back and forth discussions we agreed to making a pen and a case in which to present it.

Never have I looked at so many pictures of okra and looked for them in the grocery store in such detail. I wanted to make it as real as possible.
I started with a clay model. This allowed me to play with the shape and better visualize the pen sections.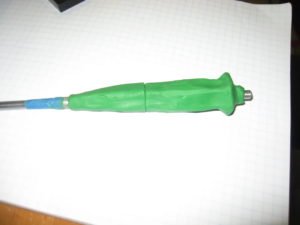 Then I drew a scale diagram of the pen and the diameters at key sections. You can also see the cross section at the point where the pen turns.
I started with two blocks of the correct length for each section.
These blocks were drilled and turned. Turning complete below.
Now to glue some extra wood for the okra cap. This closes up the end of the pen blank.
Next came the carving and shaping. The model and diagram were instrumental during this stage.
A little stain and the pen parts complete the pen. Even the inside got some stain.
Next was the presentation box.
The completed project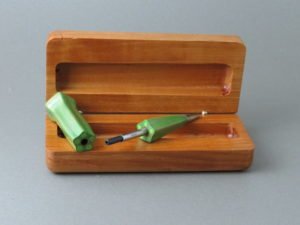 Don H. was thrilled the day he came to pick it up. Another happy customer!
During this process I learned the story behind the gift. It turns out that Don H. and his brother in law Rayburn E. have an ongoing love hate relationship with okra. Don can't stand okra and Rayburn loves okra. The regularly send each other 'gag' gifts that are okra themed. Don told me he once received a case of canned okra from Rayburn.
I received and email from Don saying:
Just wanted to let you know that you made two people very happy:

myself and Rayburn E.
His reaction was "I'll be damned" and smiled and shook his head. He is a man of few words and does not show much emotion. But seeing the pen brought it out. He was so impressed with the pen and the case, that instead of just putting it aside, he placed it on his dresser in the bedroom.

Don Henderson
So, in the words of Paul Harvey, now you know the rest of the story.